Springboard NW's LASER LESSONS™ are an energetic, interactive, high intensity event focused on ​a communication tool and concept wrapped in a conversation about what's important to you right now; your issues and your results. 
 Each 60 – 90 minute Laser Lesson™ event explores a specific communication topic which reaffirming extraordinary customer service basics. Topics include: Respectful collegial interactions; timely team conversations; negotiating inter-generational work ethics effectively, and motivating your workforce.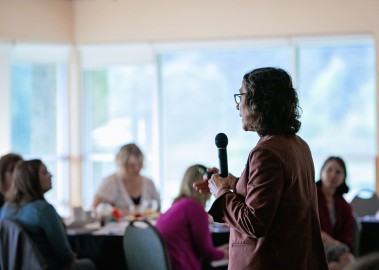 Each 60 to 90 minute Laser Lesson™ event* delivers the following:
Laser-like focus on resolving participants significant workplace communication issues
At least 2 immediately applicable content takeaways
Participant worksheets that extend the learning beyond the presentation
Interactive, kinesthetic content-related activities for from 8 to 80 participants
Laughter and physical movement accessible for all participants
Engaging, cooperative small and large group activities
* Not suitable for a "lunch and learn" environment.

FROM STALLED TO STOKED:
Moving from Problem to Solution
For best results apply this LASER LESSON™ when the following workplace communication symptoms persist:
Disrespectful subordinates
Unmotivated employees
Disengaged and unsupportive supervisor
TAKEAWAYS:
As a result of participating in this LASER LESSON™ you will be able to:
Diagram current chronic obstacles preventing getting the results you want at work
Practice applying the Results Cycle model to preparing to reboot other workplace challenges

TRASH-TALK TO UPLIFT:
Transform Essential Communications
For best results apply this LASER LESSON™ when the following workplace communication symptoms persist:
Confrontational coworkers
Talent drain
Stalled initiatives
TAKEAWAYS:
As a result of participating in this LASER LESSON™ you will be able to:
Repurpose unconscious trash-talk to stimulate new solutions to old problems
Practice being present, curious, and open when it matters most

DISMANTLE TEAM TOXICITY:
Accelerate Engagement
For best results apply this LASER LESSON™ when the following workplace communication symptoms persist:
Erosion of trust and morale
Lack of accountability
Illusion of inclusion
TAKEAWAYS:
As a result of participating in this LASER LESSON™ you will be able to:
Demonstrate at least two nonverbal behaviors to communicate respect for another.
Share an experience with your team to expand their capacity to consider multiple, often competing perspectives

FROM PAIN TO GAIN:
Convert Customer Complaints Into Service Solutions
For best results apply this LASER LESSON™ when the following workplace communication symptoms persist:
Dissatisfied customers
Overwhelmed key contributors
Increased employee turnover
TAKEAWAYS:
As a result of participating in this LASER LESSON™ you will be able to:
Identify techniques to reduce the immediate impact of another's emotional outpouring
Practice defusing the intensity of another's emotional state